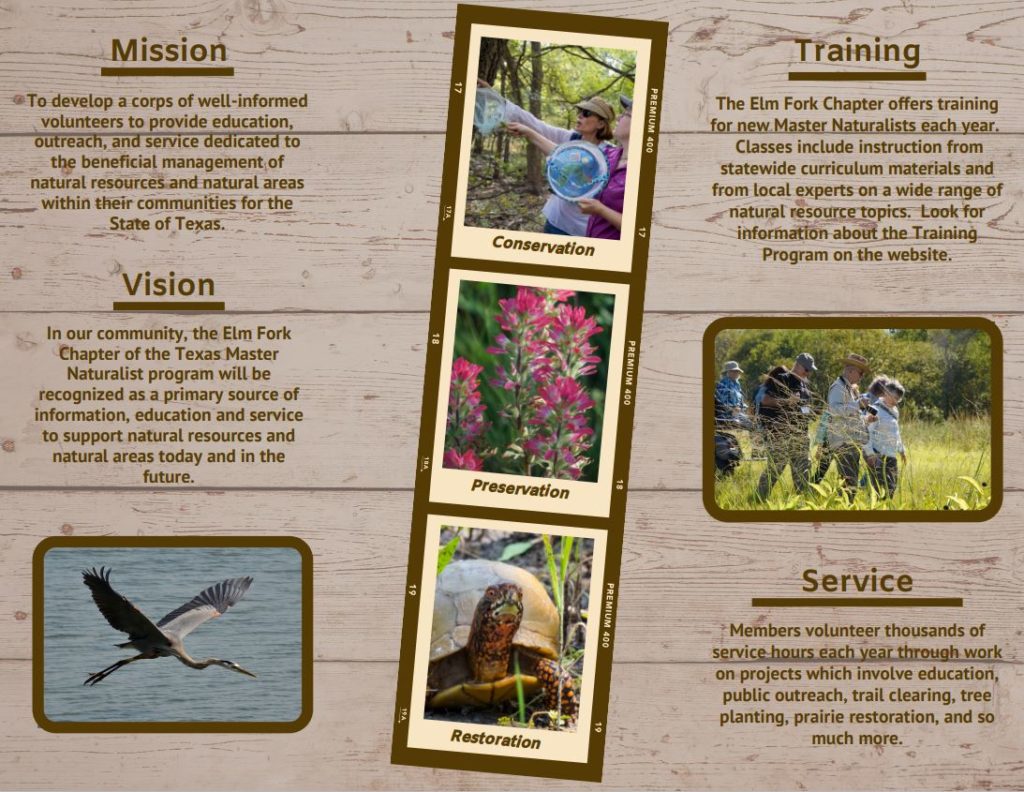 The Texas Master Naturalist program develops local teams of "master volunteers" to provide educational and outreach services aimed at the better management of natural resources and natural areas within their communities.
The Elm Fork chapter proudly serves Denton, Cooke and Wise counties.
The Texas Master Naturalist program is a partnership between the Texas AgriLife Extension Service, Texas Parks & Wildlife, and other local partners.
UPDATED COVID-19 guidance, August 27, 2021.
Read MORE…
Our Cause
As much as Master Naturalists enjoy being outdoors, this past year has shown us that we need to improve our indoor capabilities. Our ability to leverage technology improvements could use a boost!
Your help will allow us to record and share our educational presentations for virtual learning, expand our reach to train more volunteers, and to create and supply programming to educate our communities about local flora and fauna.
We are all volunteers. Truly, our efforts are a collective labor of love for the natural world in the communities we serve. Your gift is greatly appreciated and will be put to work where it can make a difference.
Giving day is now OPEN. We are not yet at our goal. Click HERE to donate!
---
Our Volunteers in Action!
Making an Impact
---
Save the date! This year will be a HYBRID Annual Meeting: both online and in-person at the Dallas/Fort Worth Airport Marriott in Irving, Texas. REGISTRATION for in-person or virtual IS OPEN! Click the graphic for more details. Annual Meeting Agendas are also available – Agenda in Matrix Format, or Agenda in Long Full Session Format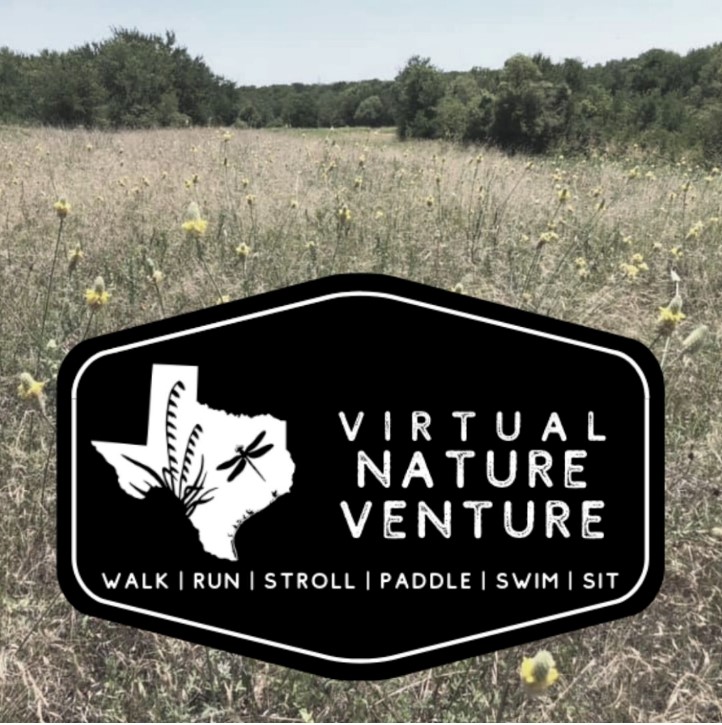 Join us in supporting our State Annual Meeting!
Our 2021 VIRTUAL NATURE VENTURE allows you to walk, run, stroll, paddle, swim or sit – on your own time, wherever you choose — a neighborhood route, a nature trail, a park, or your backyard! You choose your place and your activity.
Register by October 14, 2021 – HERE – to receive these Texas Master Naturalist "branded" items: a phone wallet with removable neck strap, a cold drink koozie, and stickers. Registration is $35. All proceeds support future TMN State Annual Meetings, promoting conservation and stewardship of our state's natural heritage.
Post your photos to:
Facebook – Texas Master Naturalist Program
iNaturalist – #texasnatureventure
VNV Facebook Group – https://www.facebook.com/groups/624495215193019 -OR-
email photos to virtualnature2021@gmail.com and we'll post them on the Cross Timbers website – https://txmn.org/crosstimbers/virtual-nature-venture-2021
Brought to the State of Texas by Cross Timbers Chapter, Texas Master Naturalists
Lights Out Texas!
We're calling on all Texans to go Lights Out for Wildlife and save birds by dimming non-essential lighting during peak Fall migration from 11 PM to 6 AM (August 15 – November 30). With the simple flip of a switch, each of us can do our part to protect millions of migrating birds soaring across our Lone Star sky. Certify your business or residence with Lights Out for Wildlife.
---
What is Project FeederWatch?

Project FeederWatch turns your love of feeding birds into scientific discoveries. FeederWatch is a November-April survey of birds that visit backyards, nature centers, community areas, and other locales in North America. You don't even need a feeder! All you need is an area with plantings, habitat, water or food that attracts birds. Count your birds for as long as you like on days of your choosing, then enter your counts online. With FeederWatch, your observations become part of something bigger than your backyard.
Visit FeederWatch.org for more information and to join.
---
Shop on AmazonSmile to Support TMN-EFC
When you shop at AmazonSmile, Amazon donates 0.5% of the purchase price to TMN-EFC at no cost to you. Go to http://smile.amazon.com and sign up so that your donation goes to Elm Fork Chapter of Texas Master Naturalists Inc and support us every time you shop!
Support TMN-EFC at your local grocery store
Kroger Community Rewards and Tom Thumb Good Neighbor programs will support your favorite charity through the Kroger reward card and Tom Thumb Club card. Select the appropriate link to find out how to add Elm Fork Chapter of Texas Master Naturalists Inc to your card.