The Texas Master Naturalist Program's mission is to develop a corps of well-informed volunteers to provide education, outreach, and service dedicated to the beneficial management of natural resources and natural areas within their communities for the State of Texas. Our chapter proudly serves Denton, Cooke and Wise counties.
If you'd like to learn more about educational opportunities and our chapter, we invite you to subscribe to our monthly email communication.
The Texas Master Naturalist program is a partnership between the Texas AgriLife Extension Service, Texas Parks & Wildlife, and other local partners.
We offer both adult and youth education.
Contact our Speaker's Bureau and our Science with Attitude (SWAt) programs for more information!
2023 Upcoming Events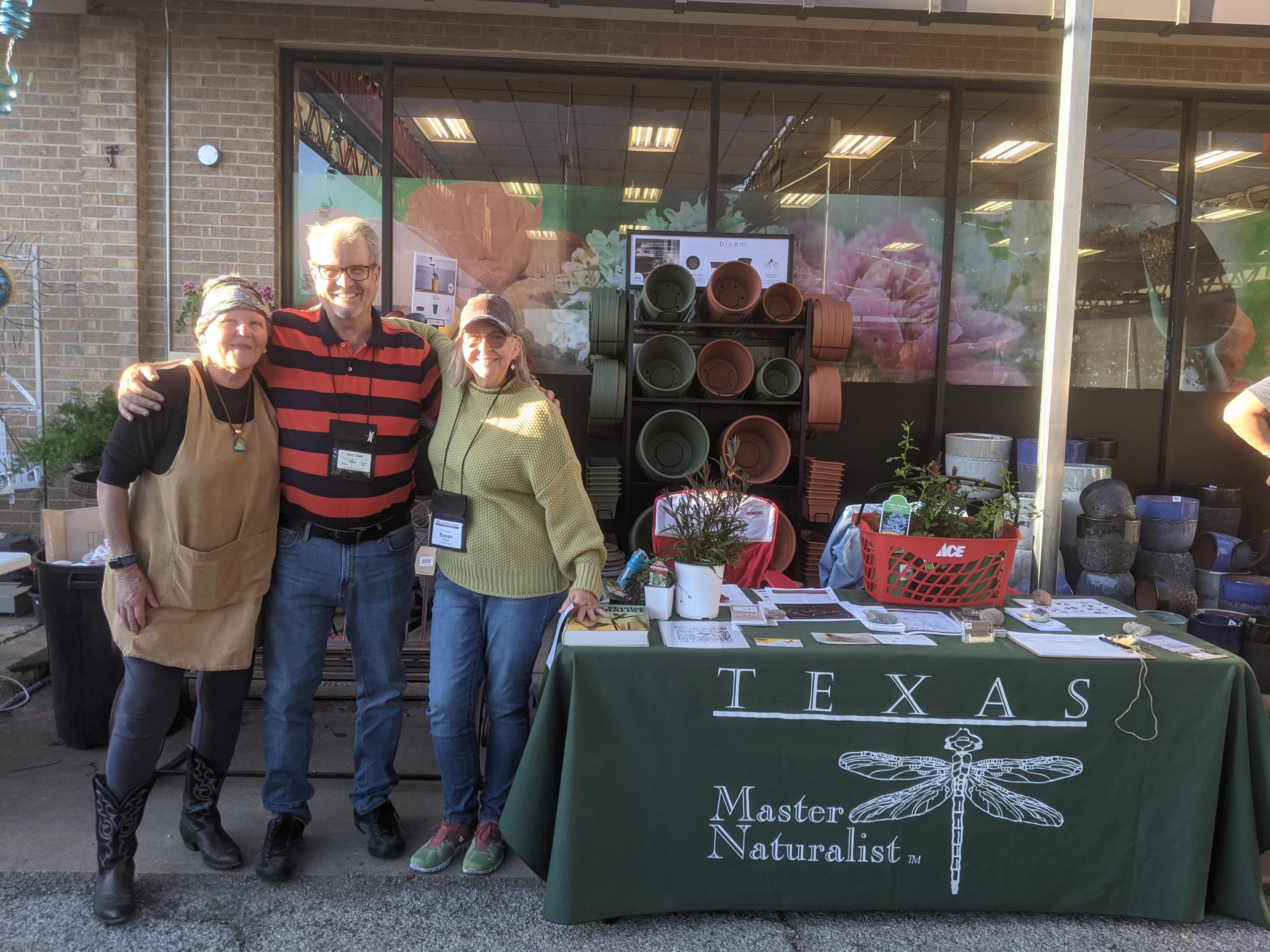 LEARN MORE ABOUT ELM FORK CHAPTER
AT THESE EVENTS
2023 SPRING PLANT SALES
LOCATION
DATE
MORE INFORMATION
Texas Discovery Gardens, Fair Park
April 15,16
9-1
www.txdg.org/plant-sale/
Lady Bird Johnson Wildflower Center, Austin
SPRING
https://www.wildflower.org/plant-sales
Collin County Master Gardener Association,
Myers Park, McKinney
April 15
9-1:30
https://ccmgatx.org/
Heard Museum/Native Plant Society,
1 Nature Place, McKinney
April 22
9-5
April 23
1-5
https://www.heardmuseum.org/plant-sale/
Tarrant County Master Gardener Association

April 1-18
http://www.tarrantmg.org/
online orders:
https://shop.tcmga.org/tcmga-2023-spring-online-plant-sale-open-to-public-april-1-to-april-16/
Native Plant Society Trinity Forks
Flower Mound High School
3411 Peters Colony Road
April 29
10-1
https://npsot.org/wp/trinityforks/
Denton County Master Gardeners Association
Trinity United Methodist Church
633 Hobson Lane, Denton
April 29
10-3
www.dcmga.com/
Native Plant Society, Dallas
Bath House Cultural Center
521 East Lawther Drive, Dallas
May 5
10-3
https://npsot.org/wp/dallas/
Native Plant Society, North Central
Elm Grove Pavilion, River Legacy Park, Arlington
May 6
10-1
https://www.txnativeplants.org/
Molly Hollar Wildscape
Randol Mill Greenhouse
1901 W. Randol Mill Road, Arlington
SPRING
https://www.thewildscape.org/
Contribute to Citizen Science
PROJECT FEEDERWATCH turns your love of feeding birds into scientific discoveries. FeederWatch is a November-April survey of birds that visit backyards, nature centers, community areas, and other locales in North America. You don't even need a feeder!
Visit https://feederwatch.org/ for details on how to get started!
Not a Texas Master Naturalist,
but want to volunteer?

View volunteer opportunities
in your area.
Support TMN-EFC
Kroger Community Rewards program supports your favorite charity through the Kroger reward card. Select the link, above, to discover how to add Elm Fork Chapter of Texas Master Naturalists Inc to your card.
Support us every time you shop on AmazonSmile! Amazon donates 0.5% of the purchase price to TMN-EFC at no cost to you. Visit AmazonSmile, sign up and select 'Elm Fork Chapter of Texas Master Naturalists Inc.'
COVID Guidance (updated August 27, 2021)