Monthly Meeting >> Monday, 26 February
Jim Stanley presents "The Land Management Assistance Program of the Hill Country Master Naturalist".
Jim will discuss the need for such a program, the history, the procedure for visits, and the accomplishments of this 14-year-old program.
Keeping the Hill Country Native
Texas Master Naturalist, Hill Country Chapter is one of 48 regional Texas Master Naturalist volunteer corps. Our chapter serves Bandera, Edwards, Gillespie, Kendall, Kerr, Kimble, Mason, Menard, Real, and San Saba counties. Members receive comprehensive training in natural resource management specific to the Texas Hill Country and share their knowledge to promote conservation and good stewardship in their communities. Our chapter is a 501(c)(3) organization.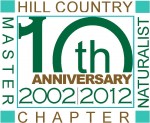 Now in our sixteenth year of commitment to education, outreach, and service, we have trained more than 480 Master Naturalist volunteers who contributed more than 250,000 service hours to their communities.

Want to join a group of friendly folks who love nature and the Texas Hill Country?  Explore our site for details, then email questions to our Membership Director.  We look forward to hearing from you!
Questions or comments about our chapter's website?  Email our webmaster.